One Bedroom Rentals
BRADLEY ON THE BAY CONDOMINIUMS
Council of Unit Owners
3701 Coastal Highway 37th Street Bayside
Ocean City, Maryland 21842
All units are individually owned and rental information is handled through the owner and/or rental agency directly. Each unit has a private parking space marked with the unit number. There is no visitor parking on the premises. There is a 24 hour free Municipal Parking Lot located behind Buildings B and C to accommodate extra vehicles or visitors. The towing policy and rules and regulations are in effect year round. Boat slips are issued on a first-come, first-serve basis. Securing a rental unit does not secure a boat slip. Many of our slips can accommodate a boat up to 28 feet. However, parking of a vehicle or boat trailer over 20 feet is prohibited. Several marinas are located nearby.
Units are numbered according to floor level. Units beginning with a '1' are first floor; units with a '2' are second floor units; and units with a '3' are third floor. There is NO elevator service. Buildings A, B and I are closest to Coastal Highway, Building D, E, and F are closest to the pool, and Buildings C, G and H are centered around the parking lot.
One bedroom units have one bath, a common covered walkway and accommodate 4-6 people.
Please contact unit owners for more information.
Click on image to view unit information.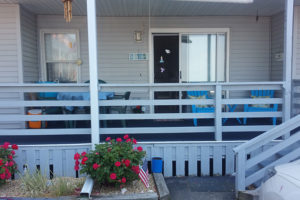 1 BEDROO0M
CONTACT:  Grace Dalkiewicz
PHONE:   410-208-3691
EMAIL: